Hankook Kinergy Eco 2 K435 205/55R16 91H

available in Baldoyle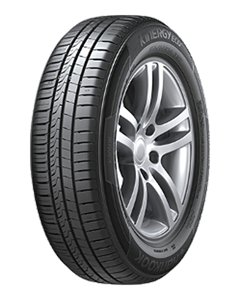 ---

Kinergy Eco 2 K435
HANKOOK K435 KINERGY ECO 2 205/55R16
---
More information
The Kinergy Eco² is a summer tyre that has been developed for modern small, compact and mid-range vehicles. Like its predecessor, which returned very good test results, a focus has been placed on optimising rolling resistance along with a further increase in mileage and noise reduction without compromising a solid performance in wet and dry conditions.
Features
Tyre Pattern
Wide lateral grooves(A)
Wide lateral grooves incorporated into the inside blocks deliver excellent hydroplaning resistance.
Asymmetric pattern design(F)
An enhanced outside stiffness ensuring improved dry handling performance.
New tread compound(J)
New compounds improve wet braking and wear performance without sacrificing other tyre characteristics. Specifically, wear performance is improved by the optimised cross linking molecule density. Advanced mixing technology with high loading filler and high molecular weight functionalised polymer improves wet and wear performance at the same time.
Wide straight 3 channel groove(G)
Optimal widths and positioning of the three channel grooves ensures excellent performance in wet driving conditions. Wide outer grooves provide maximum water evacuation which promotes wet traction.
Aqua turbine technology(H)
Improves drainage for longitudinal and lateral direction.
Optimised pitch sequence(K)
Precisely designed block sizes reduce tyre noise.
Tyre Structure
High grip silica compound
Improved dry / wet traction and lower rolling resistance.
Jointless full cover reinforcement belt
Wide steel belt layer
Increases width of the contact area for better dry and wet handling.
Equilibrium polyester carcass line
Enhanced sidewall stiffness and durability, retaining comfort.
High stiffness bead filler
Better handling and steering response.
Strong single strand bead wire
Improved uniformity and tyre fitting.
---
Hankook
205
55
16
H (Max Speed: 130mph)
91 (Max Load: 615kg)