Hankook Ventus S1 Evo 3 (K127) Tyres Available in Baldoyle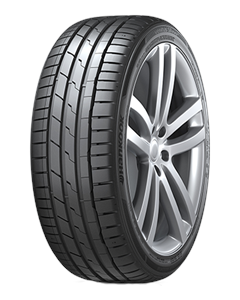 ---

Ventus S1 Evo 3 (K127)
More information
Tyre tread
Interlocking profile blocks
Interlocking tread blocks provide significantly improved cornering stability, even on wet and dry roads.
Specially reinforced outer shoulder
The optimized pitch sequence and the newly developed tread structure improve smoothness and handling
Inner shoulder
The special profile block arrangement of the inner shoulder to the central tread area ensures improved wet grip, as well as optimized water displacement.
Outer shoulder
The special profile arrangement of the outer shoulder to the central tread area ensures an optimal Grippniveau when cornering and reduces the rolling noise of the tread blocks.
Tyre structure
Tread compound
The Aqua Pine tread compound contains raw materials such as resins from pine and vegetable oils, which are mixed in state-of-the-art equipment. This provides increased tread hardness and stability as well as excellent wet performance.
Use of high strength steel belt wire
The high-strength belts efficiently absorb external forces, increasing tire longevity and ride comfort.
Aramid reinforced belt
The aramid reinforcement counteracts the balloon effect. Thus, the tire contact patch remains constant even at high speeds, thereby enabling higher cornering speed.
Double-layered fiber reinforcement
The double-layer fiber reinforcement of the carcass strengthens the tire hardness structurally.
Folded belt edge
The reinforcement of the belt was further increased.
Strong seamless bead cable
By increasing the binding forces between the tire and the wheel, the seat of the tire is optimally guaranteed even at high acceleration.
---